Building schools, homes and small business
We work together with local entrepreneurs from the village. We use local materials and resources to create a safe and affordable homes as well as jobs and economic activity in rural areas. 
Supporting the villagers to rebuild their own homes. Safe and affordable.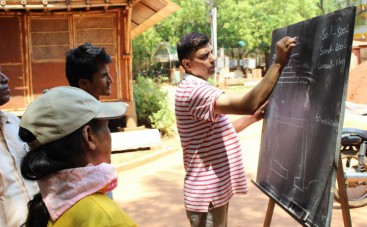 Our projects & villages
Each village is unique with it´s own people, challenges and solutions. Build up Nepal is currently working in the following villages:
– Jyamrung in Dhading (3 hours from Dhading Besi)
– Tibbling in Dharing (3 hours drive and 2 days walk from Dhading besi)
– Thautali in Sindupalchowk (6 hours drive from Kathmandu)
– Beding in Rolwaling valley (3 days walk from the road)
Read more about our projects in each village >>
Building homes for single mothers
2015-10-23
5 hoiuses under construction in Maji Gaun. See the video about our work to make permanent
homes from bamboo for poor families.