Watabaran means environment
Watabaran Cards & Paper Creations is a Nepalese company that manufactures paper products from recycled paper. The company works in accordance with Fair Trade principles and social responsibility.
Watabarans vision
To create a company that makes a difference in the Nepalese society, the environment and our employees. As a company that works with social responsibility and fair trade, we want to encourage and inspire people of Nepal and our employees to think, choose and act in an environmentally and constructive manner to promote a sustainable society, both economically and environmentally and socially. Profitability combined with social and environmental responsibility makes this possible.
Benefits sickness and accident insurance, maternity leave, training, wage negotiations and the opportunity to influence their work situation is unusual in the impoverished Nepal. There it is rather commonplace not to have a contract of employment, the wages are not paid on time or they can be dismissed and go the same day.When it comes to the actual production tries Watabaran operate in an environmentally and sustainable way – which is not easy in a country where the environment is not a priority.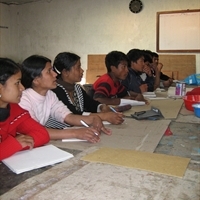 Hard work and strong values
The foundation of Watabaran is hard work and strong values. When the company started in 2001, no one even knew how to recovered paper. But we have learned that the will, creativity and hard work can get very far. Since then we have constantly developed attractive products and better methods, and today we are proud to be able to turn what was once waste into products that are used today in companies worldwide. All employees of the company know that their voice is heard and be counted and that their work is rewarded with good wages and job security which is not common in Nepal.
Watabaran guarantees its employees:
 Nice salary to be negotiated each year
The right to join a trade union
A democratic approach- accident insurance
Maternity leave
Paid vacation
Permanent employment contracts and employment
Education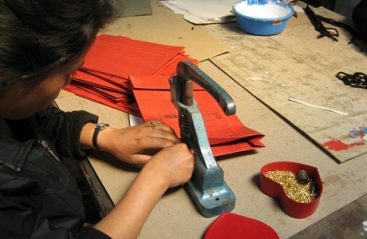 Watabaran working with craft - almost everything is handcrafted